40 Years Ago Today
By Eric HornickGame 6Isles 5, Philadelphia 4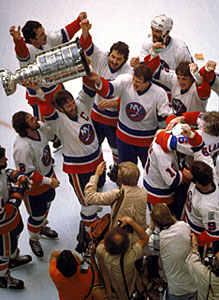 The Stanley Cup is ours!
Bob Nystrom converted a pass from John Tonelli at the magical 7:11 mark of overtime as the Islanders defeated the Philadelphia 5-4 to win the Stanley Cup in 6 games.
























Reggie Leach had given the Flyers a 1-0 first period lead with a power play goal but Denis Potvin knotted the game with a power play tally of his own.
That set the stage for the most disputed part of the game – a goal by Duane Sutter after a missed off-side call by Leon Stickle. "I guess I blew it", Stickle told a pool reporter. Flyer fans will tell you that call cost them the Stanley Cup –they'll usually conveniently forget that Brian Propp tied the game before the first period was over.
Mike Bossy broke the 2-2 tie with the Islanders' second power play goal of the game at 7:46 of the middle session, and when Bob Nystrom beat Peter Peeters with just 14 seconds to play in the session, it seemed like the Islanders had the game in hand.
Jim Robson was calling the game for Hockey Night in Canada and ironically noted, "Bob Nystrom will never score a bigger goal in his life." He was right – for about 90 minutes.
Give the Flyers credit though. Philadelphia had finished first overall, in large part due to a 35-game unbeaten streak, and with their season on the line they managed to tie the game. Bob Dailey scored just 1:47 into the third period and John Paddock scored 4:15 later to get the Broad Street Bullies, who were looking for their 3rd championship in 7 years, even. Neither team could score in the rest of regulation and (after CBS showed 15 minutes of golf), we went to overtime.


40 years later, the Flyers are still waiting.
Taken at the Coliseum during the 2014-15 season
It was 5:40pm on that 24th day of May, 1980.
At 7:11 of overtime, Tonelli's pass to Nystrom made history as Bob Nystrom scored "The Goal" ….and the Islanders won the Stanley Cup.
This scene was recreated in the same corner i.n 2015, when John Tavares scored to beat Washington in overtime in game 3.
"It's the greatest feeling in the world.", Nystrom told Newsday's Pat Calabria. "It's everything it is supposed to be. It's everything you dream about. It is."
Others felt tears, of happiness. "All I want to do is cry. Cry, cry, cry, that's all", said Bob Bourne.
The first sentence on page 3 of Newsday ends this way: "We Are Long Island and Proud. Thank You."
Here's the most complete version of the CBC broadcast I can find:
This was the only game that aired on network television in the US in a span of nearly two decades -- Dan Kelly, Tim Ryan and Lou Nanne were at the microphone for CBS:



If you just want to see the winner, with Dan and Lou, it's right here:
Kelly also had the honors as the voice behind the 1980 Stanley Cup Film:
The Isles' win even merited a mention on Saturday Night Live (wonder whatever happened to that anchor?)
Nystrom's goal was a work of art. Literally.
The historic boxscore:
First Period
1 - PHI : Reggie Leach 9 (Rick MacLeish, Bill Barber) (PP) 7:21
2 - NYI : Potvin 6 (Bossy, Trottier) (PP) 11:56
3 - NYI : Sutter (Gillies, Goring) (EV) 14:08
4 - PHI : Brian Propp 5 (Paul Holmgren, Ken Linseman) (EV) 18:38
Second Period
5 - NYI : Bossy 10 (Bourne, Trottier) (PP) 7:34
6 - NYI : Nystrom 8 (Tonelli) (EV) 19:46
Third Period
7 - PHI : Bob Dailey 4 (Ken Linseman, Paul Holmgren) (EV) 1:47
8 - PHI : John Paddock 2 (Andre Dupont, Rick MacLeish) (EV) 6:02
Overtime
9 - NYI : Nystrom 9 (Henning, Tonelli) (EV) 7:11
The Mini-Skinny:
Six year ago today, I wrote a Skinny post on that day -- it included a picture of the scoresheet that a 16-year old future statistician had typed up about the game:
My complete post on that day is here:
The Skinny on May 24, 1980
Truth be told -- it was writing that post that gave birth to the It Happened at the Coliseum series, which inspired The Road to the Cup.
Game 1: Isles 4, Philadelphia 3 (OT)
Game 2: Philadelphia 8, Isles 3
Game 3: Isles 6, Philadelphia 2
Game 4: Isles 5, Philadelphia 2
Game 5:
Philadelphia 6, Isles 3
Game 6: Isles 5, Philadelphia 4 (OT)
(Isles win series, 4-2)


Overtime is Our Time!
1st round vs Los Angeles: Game 3 (W 4-3 Morrow 6:55)
Quarter-Finals vs Boston: Game 1 (W 2-1 Gillies 1:02)
Quarter-Finals vs Boston: Game 2 (W 5-4 Bourne 1:24)
Quarter-Finals vs Boston: Game 4 (L 4-3 O'Reilly 17:13)
Semi-Finals vs Buffalo: Game 2 (W 2-1 Nystrom 21:20)
Final vs Philadelphia: Game 1 (W 4-3 Potvin 4:07)
Final vs Philadelphia: Game 6 (W 5-4 Nystrom 7:11)

Series Leaders
Mike Bossy 4-7-11
Bryan Trottier 5-4-9
Denis Potvin 4-4-8
Clark Gillies 2-6-8

Isles Scoring Leaders
Bryan Trottier 12-17-29
Mike Bossy 10-13-23
Bob Bourne 10-10-20
Butch Goring 7-12-19
Denis Potvin 6-13-19
Bob Nystrom 9-9-18

Isles +/- Leaders
Bob Lorimer +12
Denis Potvin +10
Garry Howatt +8
Butch Goring +8
Bryan Trottier +8

Isles Penalty Minute Leaders
Gord Lane 83
Garry Howatt 84
Duane Sutter 74
Clark Gillies 63


Goalie Records
Billy Smith 15-4 2.70 GAA .903 Save Percentage
Chico Resch 0-2 5.61 GAA .804 Save Percentage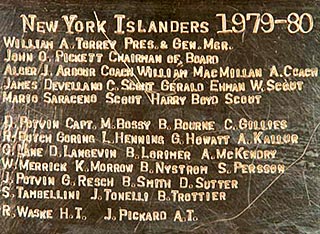 (A funny note about the engraving; each player's name is shown as "First Initial, Last Name"... except for Butch's, which is
"First Initial, Nickname, Last Name"






In honor of the 30th anniversary (back in 2010), I shared a draft of the script that Jiggs McDonald used in 2006 to introduce the Stanley Cup champions.
Draft of Jiggs' script
So the Road to the Cup is complete. Long Island, NY had the Stanley Cup!
And Finally....
The final words in this series belong not to me, nor to Tim Ryan or Steve Albert, who called most of the games that season (Jiggs would arrive the following fall):
They belong to a radio broadcaster (who died in 2009) named Bob Lawrence,
who called the play-by-play for only a handful of Islanders games -- he was John Sterling's sidekick when Sterling did the play-by-play for three seasons and then mainly served as the host of radio broadcasts that were simulcasts of the TV broadcast. With CBS televising Game 6, the Isles produced their own radio broadcast and it was Lawrence (along with Jean Potvin) who had the call.