About 20 months ago, an ESPN blogger named Neil Greenberg caused quite a ruckus during an Islander telecast after he failed to include John Tavares on his Top 25 under 25 list, leading to a memorable rant from Howie Rose.
http://www.nyiskinny.com/2012/12/following-mr-marginal.html
Well, Tavares is still under 25 -- in fact he turned 23 this week, and Greenberg, who ranked Tavares #5 last season, has pushed the Islander captain into #1 overall.
You'll have to be an ESPN Insider to get the whole story,
http://insider.espn.go.com/nhl/story/_/id/9714062/nhl-25-25-rankings
but here's the excerpt on Tavares:
<<
New York Islanders, 23 years old
Previous: 5th
Judging by the tweets I get, some of you remember that Tavares was not on
the inaugural 25 Under 25 list
. An omission? Maybe, but there is no denying his game has vastly improved since then, and he did make it all the way to
No. 5 on last season's list
. But don't take my word for it, take it from someone who watches him every game.
"During his rookie season, [Tavares] seemed to spend half of every shift on his butt, so that summer he made himself stronger and the next season he was on his feet more consistently," explains Howie Rose, the Isles' play-by-play announcer. "The season after that his skating improved significantly, and he became harder to knock off the puck. Now, entering his fifth season, he is a complete player."
Tavares has become much better at driving the play. When he was on the ice last season, 53 percent of even-strength shots went in New York's favor, compared to 46 percent for those same linemates when Tavares was on the bench, an improvement that has been increasing each campaign.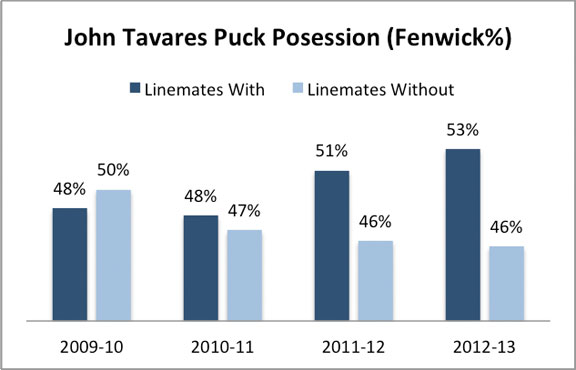 The Mississauga native also puts points on the board. Since the 2009-10 season, Tavares has scored 1.9 even-strength points per 60 minutes, 19th best among forwards with at least 4,000 minutes over that span. That includes 51 primary assists (15th best among those same forwards).
"His vision is superb. He doesn't just pass the puck; he puts it right on his linemate's tape," said Rose. "I know I'm biased here, but I genuinely feel that John Tavares is a transcendent player." At this point, it's hard to disagree.
>>
Tavares beats out Steven Stamkos (#2) and Erik Karlsson (#3) for the top spot.
Remember the days of wondering whether the Isles would take Tavares #1 overall? The guys who went #2 and #3 are much lower on this list -- Victor Hedman is rated 16th and Matt Duchene is 11th.
Forever1940 is the nom de plume of Eric Hornick, statistician on Islander home telecasts since January 21, 1982. Visit my blog: NYISkinny.com and follow me on Twitter @ehornick