33 years ago tonight (1982) –Denis Potvin and Mike Bossy each recorded hat tricks (have I mentioned recently I always tweet a link to "It Happened" at 5:22pm) as the Isles blasted the Toronto Maple Leafs 10-1.
Potvin's hat trick was the final one of his career; no Islander defenseman has managed one since. They were the 199th, 200th and 201st goals of his career. Bossy's goals were his 49th-50th-51st of the season, as he became the first player in NHL history to score at least 50 goals in each of his first five years. Ironically, neither player had a hat trick with two minutes to play – Bossy completed his trick at 18:17 while Potvin waited until there was 16 seconds to play to light the lamp for the third time.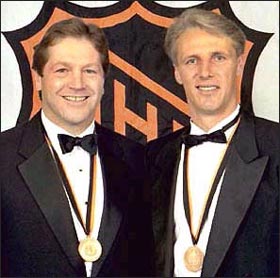 Potvin (L) and Bossy (R) went into the Hockey Hall of Fame, together, in 1991
The Isles actually had five goals scored by defensemen as Tomas Jonsson and Mike McEwen also lit the lamp as they improved to 20-1-1 in their last 22 games.
1 - NYI : Potvin 17 (Persson, Bossy) (PP) 7:39
2 - NYI : Jonsson 8 (Kallur, Merrick) (EV) 10:01
3 - NYI : Sutter B 19 (Persson) (PP) 18:44
4 - NYI : Mcewen 8 (EV) 7:40
5 - TOR : Boschman 9 (Johansen) (EV) 10:53
6 - NYI : Potvin 18 (Persson, Sutter B) (PP) 13:06
7 - NYI : Bossy 49 (Persson, Tonelli) (PP) 0:30
8 - NYI : Merrick 11 (Sutter D) (EV) 5:53
9 - NYI : Bossy 50 (Tonelli, Trottier) (EV) 7:46
10 - NYI : Bossy 51 (Langevin) (EV) 18:17
11 - NYI : Potvin 19 (Mcewen) (EV) 19:44
Billy Smith earned the victory, matching Chico's Resch then-franchise record total of 28. (Smith would eventually run his total to 32, and have at least a share of the Isles' win record until it was broken last week by Jaroslav Halak.) Mike Nykoluk, the Toronto coach, didn't have the same degree of goaltending. Bunny Larocque allowed the first three goals and the last three goals, while Vincent Tremblay allowed the four goals in the middle.
The win was the Isles' 3rd straight and raised their already gaudy record to 45-14-7, including 28-3-3 on Coliseum ice.
The 9-goal margin was good enough for a share of the club record that still stands today; the 10 Islanders tied the club record, but it was been broken with two 11-goal performances after that.
Also on this date: (2000) – In the only game in Islander history to feature two penalty shots, the Isles beat the Sabres 4-2. Olli Jokinen beat Dominik Hasek with his attempt; Kevin Weekes stopped future-Islander Miroslav Satan on his try.
Also on this date: (2012) – Anders Nilsson made 24 saves and Kyle Okposo scored the game's only goal as the Islanders blanked New Jersey 1-0.
How and Butch have the highlights:
All-time, the Isles have played twelve March 4th games at the Coliseum and finish with a 7-4-1 record on this date at 1255 Hempstead Turnpike in Uniondale.