34 years ago tonight (1981) Butch Goring scored 2 first period goals, capping off his Conn Smythe Award-winning season as the Isles scored three times in the first 10:03 and coasted to a 5-1 victory and their second consecutive Stanley Cup.
Goring has the Conn Smythe Trophy in front of him
Goring got the Isles started at 5:12 of the period, and Wayne Merrick scored 25 seconds later. It would turn out to be the Stanley Cup clinching goal.
Steve Christoff scored at 16:06 of the first period to give North Stars fans hope of a Miracle on Ice (Christoff won Gold for Team USA in 1980), but the Isles were not about to let a 3-goal lead get away – not with the Stanley Cup in the building.
The game stayed 3-1 until the final minute of the second period, when Bob Bourne put the dagger through the North Stars' hopes. The third period was largely ceremonial; Mike McEwen scored with 2:54 to play for the final margin of victory.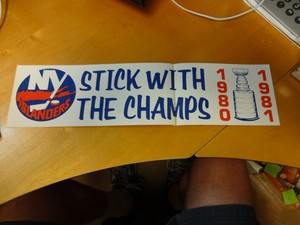 Billy Smith was good when he had to be—the Stars outshot the Isles 15-10 in the first period – but did not have much to do in the final 40 minutes as Minnesota managed only 10 shots on goal.
The Isles became the third consecutive Stanley Cup Champion to repeat at least once (Philadelphia 1974-75, Montreal 1976-79).
Here's the historic box score:
Minnesota North Stars 1 @ New York Islanders 5
First Period
1 - NYI : Goring 9 (Bourne) (PP) 5:12
2 - NYI : Merrick 6 (Tonelli, Nystrom) (EV) 5:37
3 - NYI : Goring 10 (Gillies, Bossy) (EV) 10:03
4 - MINS : Christoff 8 (EV) 16:06
Second Period
5 - NYI : Bourne 4 (Carroll, Kallur) (EV) 19:21
Third Period
6 - NYI : McEwen 6 (Trottier) (EV) 17:06
Here is the link to the (edited) complete game replay, from Hockey Night in Canada:
Here is the Stanley Cup film:

The Stanley Cup is the perfect trophy -- but its full of imperfections -- such as the spelling "Ilanders" seen here.


All-time, the Isles played one playoff game on May 21st at the Coliseum; they compiled a 1-0 playoff record on this date at 1255 Hempstead Turnpike in Uniondale.