I'm not usually short for words (I've written over 100,000 of them in the #It Happened series) but today is different.
This is the last edition of a series that began on October 3
rd
, detailing John Tavares' first NHL game (You can find that edition here)
…and it ends with Bob Nystrom's most famous goal...
JT to Nystrom… There's some symmetry there I guess.
Thanks so much to all of the people who have contributed to this series with their anecdotes, pictures and videos.
Steve Steinsaltz, who contributed a lot of the videos from the Cup era,

"StevieNics", who posted so many of the videos onto youtube that appeared in this series

Hockey Summary Project (hsp.flyershistory.com), for filling the gaps in my memory with their boxscores

Hockey-Reference.com – my go-to source for NHL stats and data

The Syosset Public Library – amazing how much research you can do online if you have a library card

Isles-blog – for helping to make this obsession a wonderful charitable endeavor

and of course to my family.
However, the biggest thanks goes to you -- the reader -- for reading, and for all of the nice words that you have said not only about this series, but about The Skinny as well.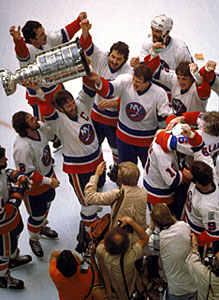 35 years ago today (1980)
- The Stanley Cup is ours!
Bob Nystrom converted a pass from John Tonelli at the magical 7:11 mark of overtime as the Islanders defeated the Philadelphia 5-4 to win the Stanley Cup in 6 games.
Reggie Leach had given the Flyers a 1-0 first period lead with a power play goal but Denis Potvin knotted the game with a power play tally of his own.
That set the stage for the most disputed part of the game – a goal by Duane Sutter after a missed off-side call by Leon Stickle. "I guess I blew it", Stickle told a pool reporter. Flyer fans will tell you that call cost them the Stanley Cup –they'll usually conveniently forget that Brian Propp tied the game before the first period was over.
Mike Bossy broke the 2-2 tie with the Islanders' second power play goal of the game at 7:46 of the middle session, and when Bob Nystrom beat Peter Peeters with just 14 seconds to play in the session, it seemed like the Islanders had the game in hand.
Jim Robson was calling the game for Hockey Night in Canada and ironically noted, "Bob Nystrom will never score a bigger goal in his life." He was right – for about 90 minutes.
Give the Flyers credit though. Philadelphia had finished first overall, in large part due to a 35-game unbeaten streak, and with their season on the line they managed to tie the game. Bob Dailey scored just 1:47 into the third period and John Paddock scored 4:15 later to get the Broad Street Bullies, who were looking for their 3rd championship in 7 years, even. Neither team could score in the rest of regulation and (after CBS showed 15 minutes of golf), we went to overtime.


35 years later, the Flyers are still waiting.
Taken at the Coliseum during the 2014-15 season
It was 5:40pm on that 24th day of May, 1980.
At 7:11 of overtime, Tonelli's pass to Nystrom made history as Bob Nystrom scored "The Goal" ….and the Islanders won the Stanley Cup.
This scene was recreated in the same corner i.n 2015, when John Tavares scored to beat Washington in overtime in game 3.
"It's the greatest feeling in the world.", Nystrom told Newsday's Pat Calabria. "It's everything it is supposed to be. It's everything you dream about. It is."
Others felt tears, of happiness. "All I want to do is cry. Cry, cry, cry, that's all", said Bob Bourne.

The first sentence on page 3 of Newsday ends this way: "We Are Long Island and Proud. Thank You." If a similar sentence was written today, it could end: "We Are Long Island – home of the Lizards, Ducks, Cosmos and Rough Riders."
Here's the most complete version of the CBC broadcast I can find:
This was the only game that aired on network television in the US in a span of nearly two decades -- Dan Kelly was at the microphone for CBS when Nystrom made history.
Kelly also had the honors as the voice behind the 1980 Stanley Cup Film:
The Isles' win even merited a mention on Saturday Night Live (wonder whatever happened to that anchor?)
Nystrom's goal was a work of art. Literally.
The historic boxscore:
First Period
1 - PHI : Reggie Leach 9 (Rick MacLeish, Bill Barber) (PP) 7:21
2 - NYI : Potvin 6 (Bossy, Trottier) (PP) 11:56
3 - NYI : Sutter (Gillies, Goring) (EV) 14:08
4 - PHI : Brian Propp 5 (Paul Holmgren, Ken Linseman) (EV) 18:38
Second Period
5 - NYI : Bossy 10 (Bourne, Trottier) (PP) 7:34
6 - NYI : Nystrom 8 (Tonelli) (EV) 19:46
Third Period
7 - PHI : Bob Dailey 4 (Ken Linseman, Paul Holmgren) (EV) 1:47
8 - PHI : John Paddock 2 (Andre Dupont, Rick MacLeish) (EV) 6:02
Overtime
9 - NYI : Nystrom 9 (Henning, Tonelli) (EV) 7:11
(Update: As the 2017 Stanley Cup playoffs started, the NHL added their own box scores to their website --here's what it looks like :
One year ago today, I wrote a Skinny post on that day -- it included a picture of the scoresheet that a 16-year old future statistician had typed up about the game:
My complete post on that day is here:
The Skinny on May 24, 1980
Truth be told -- it was writing that post that gave me this crazy idea to cover the Coliseum's history on a day-by-day basis.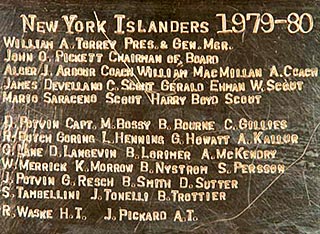 In honor of the 30th anniversary in 1980, I shared a draft of the script that Jiggs McDonald used in 2006 to introduce the Stanley Cup champions.
1980 Stanley Cup Champions - Jiggs script
Also on this date: (1993) In Montreal, the Canadiens eliminated the Isles in five games with a 5-2 victory. The Isles have not been out of the first round since. (Update --this would change in 2016!)
All-time, the Isles played one playoff games on May 24th at the Coliseum; they compiled a 1-0 playoff record on this date at 1255 Hempstead Turnpike in Uniondale.
And Finally....
The final words in this series belong not to me, not to Howie and not to Jiggs.
They belong to a radio broadcaster (who died in 2009) named Bob Lawrence,
who called the play-by-play for only a handful of Islanders games -- he was John Sterling's sidekick when Sterling did the play-by-play for three seasons and then mainly served as the host of radio broadcasts that were simulcasts of the TV broadcast. With CBS televising Game 6, the Isles did their own radio broadcast and it was Lawrence (along with Jean Potvin) who had the call.