39 years ago tonight (1976) -

The Isles

have played exactly 3,300 regular season

in their history and only once has a defenseman not named "Denis Potvin" scored a hat trick. Jean Potvin turned the trick and added an assist while Denis had two goals and two assists of his own as the Isles pounded Detroit 8-1.
Trailing 1-0, Denis Potvin and JP Parise scored 43 seconds apart late in the first period to give the Isles the lead.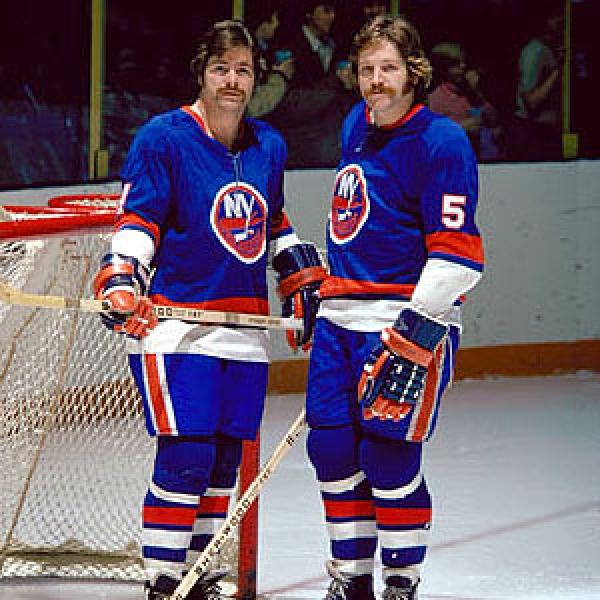 The Potvin brothers. Jean is on the left.
The second period belonged to big brother Jean, who scored three times, including twice on power plays.

Jean's final two goals came 45 seconds apart as he became the only defenseman in Islander history to ever score three goals in a period at the Coliseum
Ralph Stewart also added a pair of goals for the Isles.

At least one defenseman earned a point on each of the eight Islander goals.
It was the first time since 1947 that brothers had combined for at least five goals in an NHL game and the first time in NHL history that it had been done by two defensemen.
"I was so surprised when that third one went in, I nearly swallowed my mouthpiece", said Potvin.

It was the only hat trick of his NHL career.
I got to know Jean quite well in his years in the Islander radio booth -- and he is directly responsible for one of my biggest thrills -- riding in the Stanley Cup parade -- as I detailed last year, here:
Did you know: Jean Potvin was involved in the last Christmas Day fight in NHL history? Potvin, then a King, fought Ernie Hicke, then a California Golden Seal on 12/25/71. The players were later teammates with the Islanders.



Also on this date: (1997) - Derek King scored two goals as the Isles pounded Edmonton 8-1.

Steve Webb scored his first NHL goal late in the game.

It was one of five goals the popular pugilist scored in the NHL.

Webb had recorded an assist earlier in the game as this became his only career multi-point game.
Here's the video of the 4th of Webb's 5 NHL goals (10-28-2001 vs Dallas)
All-time, the Isles have played ten January 22nd games at the Coliseum and finish with a 6-3-1 record on this date at 1255 Hempstead Turnpike in Uniondale.