12 years ago tonight (2003) – It was a rare Friday night home game, but Mark Parrish did not seem to mind.
Parrish scored three goals for his 4
th
career hat trick as the Isles pounded Boston 8-4.
All three of Parrish's goals came in the first two periods.
Jason Blake also scored twice (including one shorthanded) for the Isles, who led 4-2 after one period and 7-3 after two.
Chris Osgood made 39 saves for the Isles while Alexei Yashin added a goal and two assists.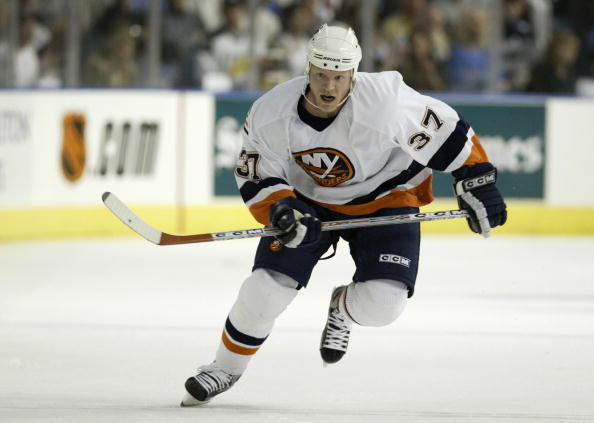 Mark Parrish (undated)
Hats were similar to these
Parrish picked a good night for a hat trick, as the Isles had given away orange baseball caps to all fans in attendance. "Hopefully, most of them made it back to their owners," Parrish said. "The hard thing is when you do that, some people are reluctant to throw them."
The trick gave him eight goals in his last nine games as the Isles recorded their fifth straight victory.
Osgood, who would be traded two months later, improved to 5-0-2 in his last seven starts.
Haven't found much game video but here is NESN's coverage of a fracas between Eric Godard and PJ Stock.
Also on this date: (2002) – Is it something about the date? One year earlier Mark Parrish scored the 8,000th goal in franchise history as the Isles beat Pittsburgh 4-2.
All-time, the Isles have played twelve January 3rd games at the Coliseum and finish with a 5-5-2 record on this date at 1255 Hempstead Turnpike in Uniondale.