18 years ago tonight (1997) - On the night the Isles honored their 25
th
anniversary team, Claude Lapointe scored the game's only game at 2:46 of overtime as the Isles defeated Florida 1-0 before a sellout crowd.
Here's the ceremony, hosted by long-time radio voice Barry Landers.
Tommy Salo made 29 saves

in the only 1-0 overtime win for the Islanders in Coliseum regular season history (The

Isles also won a 1-0 OT game in the 1979 playoffs).
It was the first goal in 26 games for

Lapointe and his first point in 20 games. Afterwards, Lapointe told Newsday's John Valenti:" "I never expect to score…It's a great feeling. …It's not my game to make the perfect play. I am a defensive player, a checking player. I don't make the good decision eight out of 10 times. My game has nothing to do with shooting the puck."
Lapointe's backhander beat former Isles Mark Fitzpatrick for the winning tally.
Here's Howie's call of the winning goal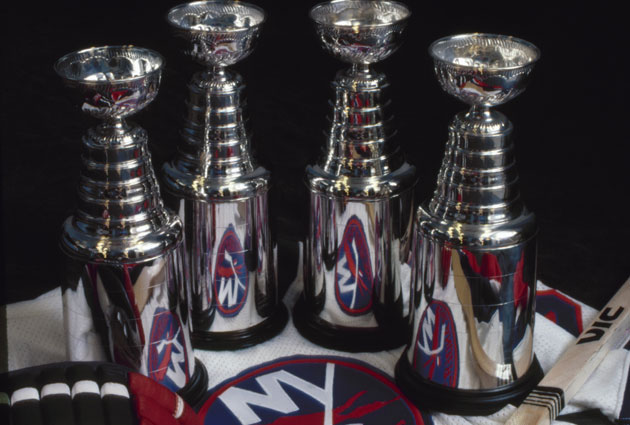 The all-time team introduced that night included General Manager Bill Torrey, Coach Al Arbour and 12 players: goaltenders Billy Smith and Glenn (Chico) Resch, defensemen Denis Potvin, Ken Morrow, Stefan Persson and Dave Langevin and forwards Clark Gillies, John Tonelli, Bobby Nystrom, Butch Goring, Bryan Trottier and Mike Bossy (although Resch and Trottier did not attend). All but Resch were part of the "Core of the Four" that would be honored in later years.
Also on this date: (1986) – Mike Bossy's hat trick goal, at 17:32 of the third period, broke a 5-5 tie as the Isles beat New Jersey (and Chico Resch) 6-5. Roger Kortko had tied the game just 1:45 earlier, offsetting a go-ahead goal by a man who would later have his own place in Islander history: Kirk Muller.
Rare photo: a happy Kirk Muller in an Isles jersey
All-time, the Isles have played nine February 15th games at the Coliseum and finish with a 5-2-2 record on this date at 1255 Hempstead Turnpike in Uniondale.