38 years ago tonight (1977) – Northport's Richie Hansen became the first Long Islander to score a goal for the Isles and it cemented a 6-3 win over the rival Rangers at a sold-out Coliseum.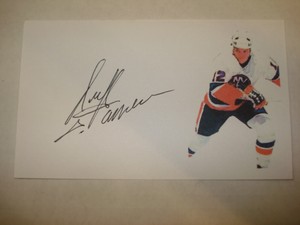 Hansen would score only one more NHL goal, for the Isles in the 1978-79 season.
Denis Potvin had a goal and three assists for the Islanders.
Clark Gillies got the Islanders started with a goal just 2:21 into play. It was Gillies' first game since being named the second captain in Islander history, succeeding Ed Westfall. Westfall told Newsday's Joe Gergen: "I was very proud to be Captain of our team. I know being captain is not a big deal to a lot of people, but to me it was." Westfall resigned the captaincy, telling Bill Torrey it was time for the leadership to pass to a younger player.
Gillies was named captain on the third ballot of his teammates. He would serve as captain through the end of the 1978-79 season. Denis Potvin took over as the Captain for the 1979-80 season.
Gillies, in a jersey with the Captain's C, was honored at the Coliseum on 12/13/14
Hansen relished his first NHL goal. "Hey, I've been thinking about that first one a long time. Everybody thinks about it, I guess", he told Newsday's Pat Calabria.
Also on this date: (2004) – Adrian Aucoin scored in the first minute of overtime as the Isles extended their point streak to six games with a 5-4 win over Vancouver. Rick DiPietro made 25 saves as the Isles rallied from a 3-1 deficit with 7 minutes to play to take a 4-3 lead, only to have Henrik Sedin force overtime with the tying goal with 1:22 to play.
Here's Howie and Joe with the call on the winning goal:
All-time, the Isles have played nine February 3rd games at the Coliseum and have compiled a 4-1-4 record on this date at 1255 Hempstead Turnpike in Uniondale. The tenth and final February 3rd home game is tonight –as the Isles host Florida at 7:00. Make sure you're there, because after tonight, there are only 18 regular season games remaining.