36 years ago tonight (1978) – Playing without Bryan Trottier and Ed Westfall due to injuries, the Isles embarrassed the Philadelphia Flyers 8-2 at the Coliseum for Al Arbour's 200
th
victory as Islander coach.
The Isles grabbed a 3-0 lead before the first period was over, chasing Bernie Parent and built a 5-1 lead through 40 minutes.
Bernie Parent had many great nights, but this wasn't one of them
That set the stage for a historical seven second span as Denis Potvin and Mike Bossy tallied early in the third for what was at the time the fastest pair of goals in Islander history (the record was broken the next season by one second).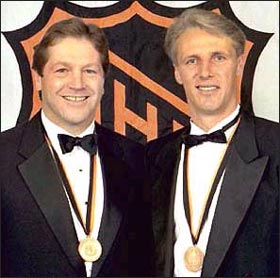 5 & 22 had many great moments together, including entering the Hockey Hall of Fame in 1991.
(You can always find a tweet with each day's #ItHappened at exactly 5:22 pm)
Long Islander Richie Hansen had a pair of assists; he was one of seven Islanders to record two points in the game as the Isles improved to 11-3-3 on the season and extended their unbeaten streak to seven games (6-0-1). Chico Resch extended his season-opening unbeaten streak to 10 games (8-0-2).
Also on this date: (1972) – Robert Gordon Orr scored the game's first goal and Phil Esposito had four points as the Bruins beat the Isles 7-3. Ed Westfall scored a goal and added an assist against his former mates.
The first minute of this video has some highlights from that game, as called by Fred Cusick for TV-38 in Boston.



All-time, the Isles have played only four Novermber 18th games at the Coliseum and have compiled a 1-3-0 record on this date at 1255 Hempstead Turnpike in Uniondale. The Isles haven't played at home on November 18th since 1982. The fifth and final November 18th home game is tonight –as the Isles host Tampa Bay at 7:00. Make sure you're there, because after tonight, there are only 34 regular season games remaining.