17 years ago tonight (1997) – Sergei Nemchinov scored two goals and Ziggy Palffy and Tom Chorske each had two assists as the Islanders built a 3-0 lead and then survived a valiant comeback effort by the St. Louis Blues, holding on for a 4-2 victory.
The Blues outshot the Isles 20-3 in the third period and 36-20 overall, but Eric Fichaud made 34 saves, including six on former Islander Pierre Turgeon to record his 19th career victory.
The Blues nearly tied the game late in the third period, but Al MacInnis' shot rang off the post. Fichaud told Newsday's John Valenti: "That was probably the hardest shot I've ever seen in my life. It almost killed me."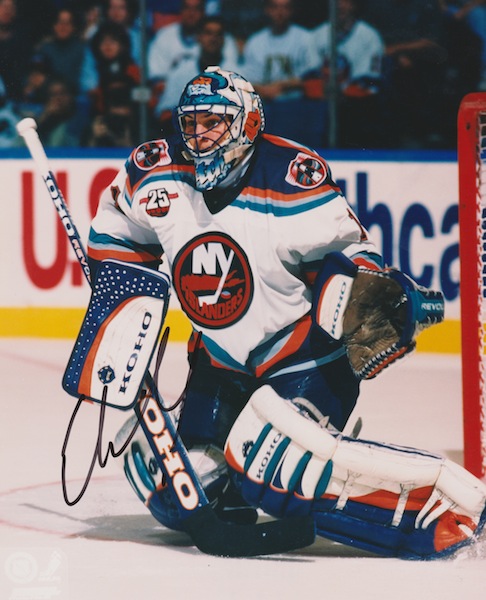 Eric Fichaud (undated)
It would turn out to be a last hurrah for Fichaud, who would not win again for the Isles and won only three other NHL games.
The win came in the 1000th regular season game at the Coliseum, raising the Islanders' all-time record on Coliseum ice to 541-319-140.
Also on this date: (1975) – Ed Westfall scored the opening goal and add three assists as the Isles cruised to an 8-2 win over St. Louis.
All-time, the Isles have played ten November 29th games at the Coliseum and have compiled a 4-5-1 record on this date at 1255 Hempstead Turnpike in Uniondale. The 11th and final November 29th home game is tonight –as the Isles host New Jersey at 7:00. Make sure you're there, because after tonight, there are only 30 regular season games remaining.