7years ago tonight (2007) – In one of the most memorable nights in recent Coliseum history, Al Arbour stepped behind the Coliseum bench one final time, coaching the Isles to his 740th regular season win in his 1,500th NHL game as the Isles defeated Pittsburgh 3-2.
The Isles fell behind 2-0 but Trent Hunter scored in the second period to cut the deficit in half.
Miroslav Satan played hero in the third period, scoring the tying and winning goal.
Wade Dubielewicz earned the victory in relief of an injured Rick DiPietro.

DiPietro had left the game when he was stuck in the head by an errant Sidney Crosby stick.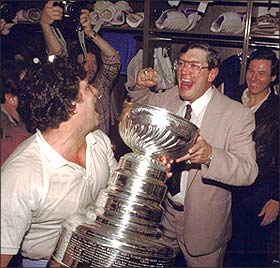 Arbour coached the game at the suggestion and insistence of then head-coach Ted Nolan: "Just by him being here won the game….Al said he didn't know all the names of the players, but they sure knew him."
As for the legendary coach, who had turned 75 two days earlier, "It feels very good (to win) but I really didn't do that much…It was all the players and coach Ted Nolan."
The memorable night was recalled as part of the "Pioneers" series, which aired on NHL Network:
I'll have to admit – when the Isles announced that this was happening over that summer, I thought it was gimmicky.

It turned out to be a truly memorable night, capped off by this iconic photo opportunity:
There's a reason you can find each day's flashback at exactly 7:40am. It's for Arbour's 740 wins. Without Ted Nolan's wonderful gesture, you would have found it one minute earlier.
Two more videos -- the final seconds of the game (from FSN-NY) -- and the raising of the 1500 game banner (as recorded inside the Coliseum by Islander fan Roger Farina):
Also on this date: (1987) – Pat Flatley scored his first two goals of the season and Gord Dineen added two assists as the Isles built a 6-1 lead and cruised to a 6-3 win over New Jersey.
All-time, the Isles have played nine November 3rd games at the Coliseum and finish with a 5-3-1 record on this date at 1255 Hempstead Turnpike in Uniondale.