38 years ago tonight (1977) – Fresh off their first round sweep of Chicago, the Isles began a 4-game sweep of Buffalo with a 4-2 win in game 1.
Garry Howatt and Billy Harris gave the Isles a 2-0 lead in the first period but Gilbert Perreault and Rene Robert (two-thirds of the famed French Connection line) scored 2:01 apart in the second to tie the game.
The Sabres had barely celebrated the tie score when Clark Gillies notched the winning goal just 25 seconds later.

Jude Drouin added a goal late in the 2nd period for the final margin of victory.
Billy Smith finished with 37 saves in recording the victory.
Also on this date: (2010) – John Tavares' rookie season came to a close in a wild 6-5 overtime defeat to Pittsburgh.
The Penguins held three separate 3-goal leads (3-0, 4-1, and 5-2) but could not hold them.

Sidney Crosby scored twice for the Pens, giving him 51 goals on the season; Crosby, who had a hand in the first 5 Penguin goals, also had three assists as he finished the campaign 51-58-109.
John Tavares scored twice for the Isles, including the tying goal with less than 5 minutes to play that forced overtime.

Matt Moulson recorded his 30th goal of the season while Kyle Okposo and Jon Sim also tallied for the Isles.
Jordan Leopold scored the overtime winner for Pittsburgh as Tavares finished his rookie campaign 24-30-54.
Here are the highlights (from the Penguins broadcast with Terry Steigerwald):
Also on this date (1975/1980) – two important games, neither of which happened on Long Island.

In 1975, Jean-Paul Parise and 11 seconds were married forever in Islander lore as the Isles eliminated the Rangers at Madison Square Garden.
Here's what Newsday looked like the next morning: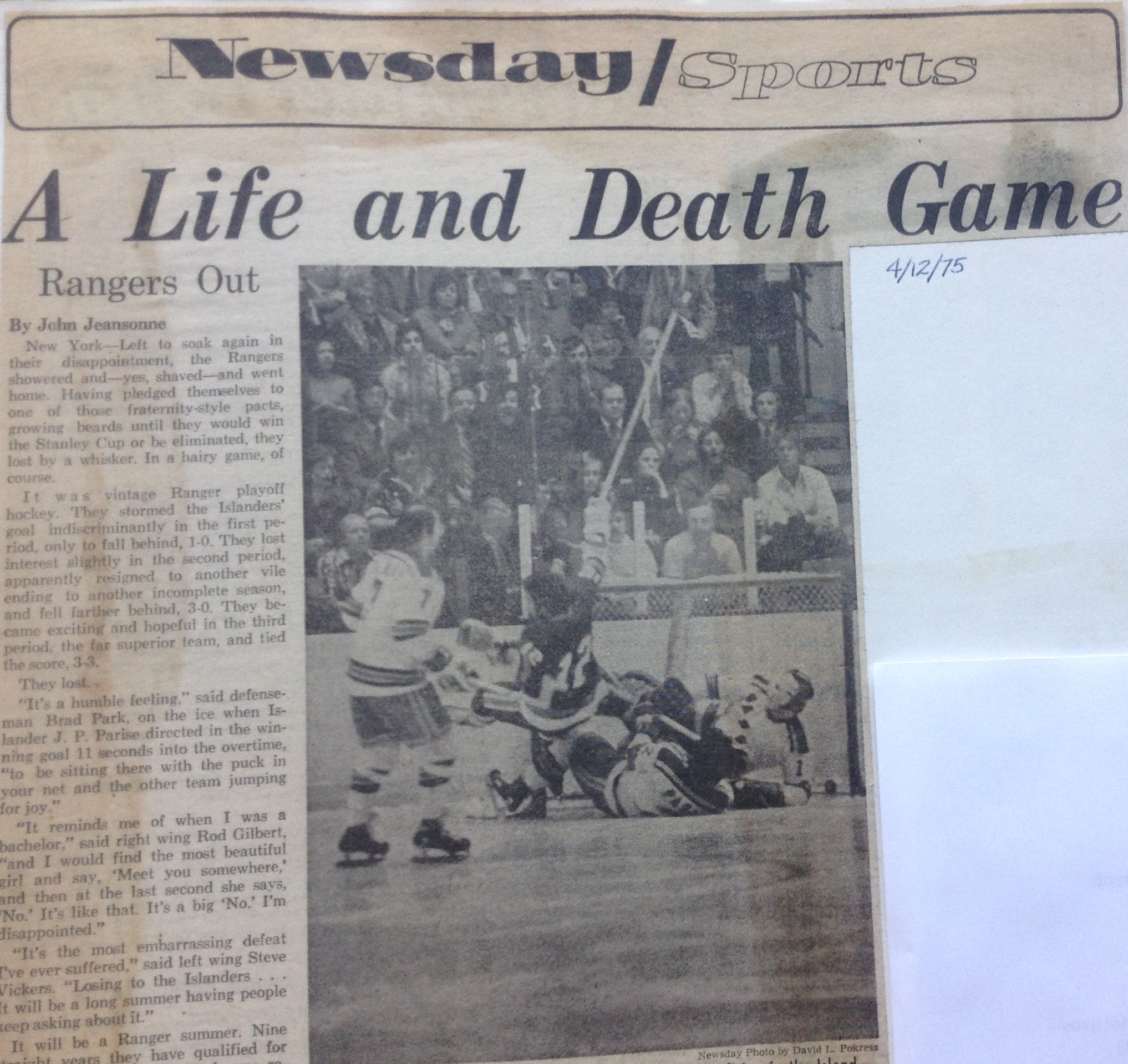 Five years later, Ken Morrow had arguably the most important unsung goal in Isles history as his overtime goal gave the Isles a 4-3 win in Los Angeles in game 3 of the best-of-5 series.
Had the Isles lost that series there obviously would have not been a Stanley Cup in 1980 and who knows what the composition of the team would have looked like in later years.
Here's a 1982 profile on Morrow -- before he scored the Cup clincher in 1983 and the goal to beat the Rangers in 1984.
All-time, the Isles have played three regular season and three playoff games on April 11th at the Coliseum; they have compiled a 1-1-1 regular season and 1-2 playoff record on this date at 1255 Hempstead Turnpike in Uniondale.

The final April 11th home game is tonight –as the Isles host Columbus at 7:00. Make sure you're there for the 1,665th and final regular season game in Nassau County.