32 years ago tonight (1983)- Butch Goring scored a shorthanded goal and also assisted on Billy Carroll's shorthanded tally as the Isles scored 4 goals in the third period to rally from a 3-2 deficit for a 6-3 win over the Pittsburgh Penguins in the regular season home finale.
The Isles grabbed a 2-0 lead in the first period on goals by Bryan Trottier and Tomas Jonsson but the Penguins scored three times in the middle session to grab the lead.
Goring's goal, at 7:31 knotted the game, and a Mike Bossy power play tally gave the Isles the lead with 8:46 to play. Pittsburgh had a chance to get even when Mats Hallin was assessed a double minor but midway through the second period Carroll's shorthanded goal (his only goal in 71 games that season) gave the Isles a two-goal lead. Greg Gilbert cemented matters with an empty-net goal with 10 seconds to play.
For Bossy, it was his 60th goal of the season, tying Phil Esposito's NHL record of four 60-goal seasons. (Bossy would become the first player to score 60 goals in a season five times in his career in 1985-86; he currently shares that NHL record with Wayne Gretzky.)
MOST 60-OR-MORE GOAL SEASONS:
5 – Mike Bossy, NY Islanders, in 10 seasons.
– Wayne Gretzky, Edmonton, Los Angeles, St. Louis, NY Rangers,
in 20 seasons.
4 – Phil Esposito, Chicago, Boston, NY Rangers, in 18 seasons.
– Mario Lemieux, Pittsburgh, in 17 seasons.
The Isles managed to win despite failing on an 8 minute power play in the second period; Pittsburgh's Gary Rissling was given a match penalty leading to the unusually long power play (that started after a coincident minor penalty to Tomas Jonsson ended).
The Isles knew that they had already clinched second place in the Patrick Division before the game but also knew that they would need success on the road to extend the dynasty to a 4th Cup. Butch told Newsday's Pat Calabria, "If we're going to do anything in the playoffs, we're going to have to win on the road. We know that."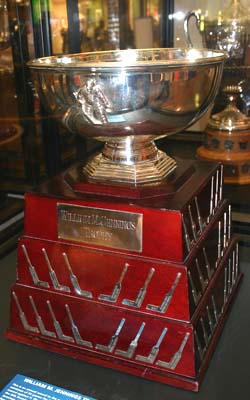 Jennings Trophy
The three Penguin goals hurt the Isles' chances to win the William M. Jennings trophy (allowing fewest goals) but the Isles did win that award for the only time in their history.
Fewest goals allowed in 1982-83 season.
Also on this date: (2013) – Anders Lee scored a goal on his first NHL shot as the Isles beat Winnipeg 5-2. Kevin Poulin made 25 saves for the Isles, who were just two games into their run that would lead them to the Stanley Cup playoffs.
All-time, the Isles have played twelve April 2nd games at the Coliseum and finish with a 6-6-0 record on this date at 1255 Hempstead Turnpike in Uniondale.