37 years ago tonight (1978) -
Mike Bossy became the first rookie in National Hockey League History to reach 50 goals, and with just 5 seconds to play in regulation, he became the first rookie to reach 51 as the Isles rallied from a 2-1 deficit to defeat the Washington Capitals 3-2.
Guy Charron and Lorne Henning traded first period goals, but Tom Rowe gave the Capitals their second advantage of the evening with the only goal in the middle period. Both Henning and Rowe scored their goals shorthanded.
The game headed to the third period with the Caps holding a 2-1 lead, despite the Isles outshooting Washington 26-14 through two periods. The game was delayed for about 16 minutes at the start of the third period but it was the Isles who had been powerless against the young Cap netminder Bernie Wolfe.
Midway through the third period, Bill Riley was assessed a penalty, putting the Isles on the power play. At that point, Bossy had gone six games without a goal but even a spectacular effort by Bernie Wolfe was not enough to stop Bossy from reaching uncharted territory: 50 goals by a rookie. Bossy converted the rebound of his own shot, and then as Pat Calabria chronicled in Newsday, "he danced a jig".
"All my frustration came out in that one shot. It meant so much to me. Tears came to my eyes, I was so overjoyed. I don't care what I did, if I looked silly or anything.", said Bossy. It was a dance that Isles fans would enjoy for the next decade.
I don't have the video from that 50th goal celebration; here's the 50 in 50 celebration 3 seasons later.
Here's a profile of Boss that aired later that month on Hockey Night in Canada:
Meanwhile, high atop the Coliseum, an Islander radio broadcaster was losing his mind.
37 years later, I can remember the words…every one of them. "Mike Bossy…he got his 50th goal…Mike Bossy…he got his 50th goal…. Mike Bossy ties the game…a power play 50th goal for Mike Bossy." Of course John Sterling said the words "Islander Goal…Islander Goal… Islander Goal" before that.
John Sterling in his more-familiar Yankee Stadium perch
But that goal just tied the game; with 5 seconds to play (remember there was no overtime in that era) Bossy scored again to give the Isles the victory and keep them three points ahead of Philadelphia.
The win improved the Isles all-time record to 13-0-3 against the Caps. Wolfe finished with 41 saves, and as the footnote to history.
Patrick Division

W-L-T

Pts




NY Islanders

45-17-14

104

Philadelphia

44-19-13

101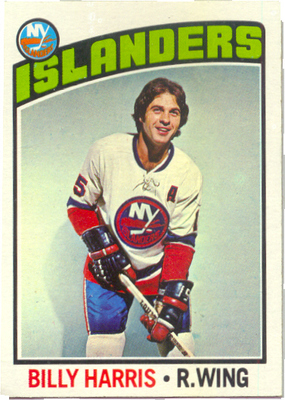 Also on this date: (1975) – The Isles needed a win over Atlanta to clinch their first playoff spot but settled for a 2-2 tie with the Flames. A potential game-winning goal was erased by referee Art Skov when he ruled that Billy Harris was in the crease when he deflected a shot by Phil Myre.
| | | |
| --- | --- | --- |
| Patrick Division | W-L-T | Pts |
| Philadelphia | 49-18-10 | 108 |
| NY Islanders | 32-24-22 | 86 |
| NY Rangers | 36-28-13 | 85 |
| Atl Flames | 33-29-15 | 81 |
The Isles would eventually clinch a playoff spot three days later, when the Rangers defeated the Flames 3-2.
Also on this date: (1
998) – Wade Flaherty recorded the first of three consecutive Islander shutouts as the Isles blanked Tampa Bay 4-0. It is the only time in Islander history that they have blanked three consecutive opponents. Trevor Linden earn
ed a share of an Islander franchise record with two shorthanded goals.
Also on this date: (1995) - Bob Nystrom's jersey is retired before a 5-1 loss to Buffalo.
All-time, the Isles have played 14 April 1st games at the Coliseum and finish with a 6-3-5 record on this date at 1255 Hempstead Turnpike in Uniondale.