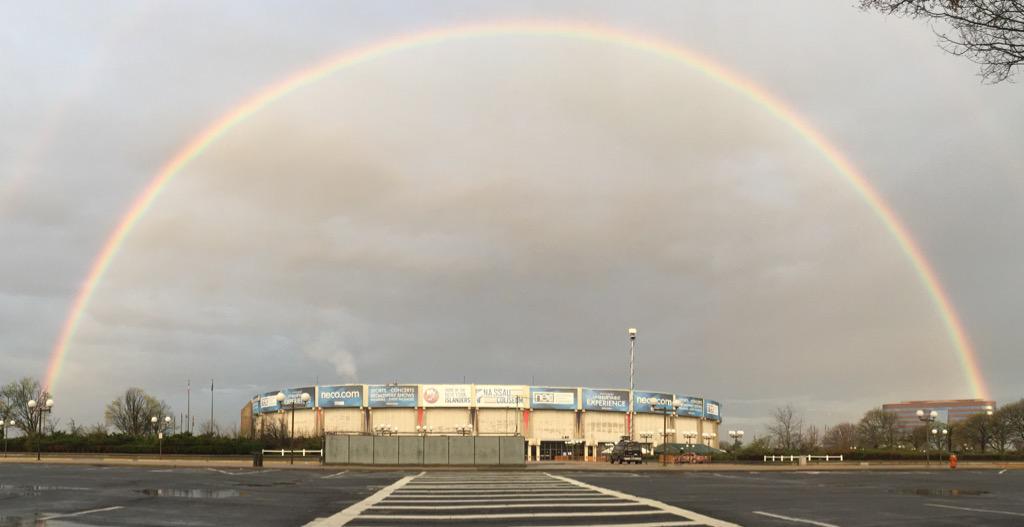 Like many, I awoke this morning to this beautiful picture of a rainbow encircling the Coliseum.
Like Dorothy said in the summer of 1939 (a few months before the start of the 1939- 19-FORTY season), "There's no place like home, There's no place like home".
For 43 years, the Isles' home has been the Coliseum, and for the last 33 years I've been privileged to witness almost every major moment from my perch with SportsChannel, Fox Sports NY, or MSG+.
Tonight is likely our last home telecast. NBC has exclusivity beyond the first round, and if this series goes 6, I expect NBC will televise Saturday's game as well (although nothing has been announced). I may even have the opportunity to work some of those National telecasts (depending on the crew). But it won't be the same.
For 33 years, I've worked with two play-by-play men: Howie and Jiggs and with 4 color commentators: Butch, Billy, Joe and Eddie.
With Jiggs and Howie on Ed Westfall night, 2011
I've also worked with a tremendous crew of production people that you may not know by name but have contributed immensely to your enjoyment of Isles hockey over the years.
At the regular season finale with our stage manager extraordinaire, JT Townsend
Tonight, as MSG+ (and MSG) hits the air at 7:30, I'll be seated just to Howie's left, with the same goal I had 33 years ago -- to make our broadcast just a little bit better.
It is not the last game, but it is likely the last time. And that really hurts.