29 years ago tonight (1986) – In their fourth try in as many seasons, the Washington Capitals eliminated the Isles by sweeping the Patrick Division Semi-Finals in three games by a 3-1 score.
It was the Capitals' Hall of Fame defense that did the Isles in, as Rod Langway, Scott Stevens and Larry Murphy all scored for Washington.
Mike Bossy had the only goal for the Isles who were eliminated without winning a playoff game for the first time in their history. In fact in was only the 2nd time (1978 quarter-final loss to Toronto) in 12 (straight) playoff appearances that the Isles were eliminated without winning a series.
It was Bossy's 83rd career playoff goal, which established an NHL record at the time.
Al Arbour coached the final game of his first term as Isles bench boss. Arbour would move into semi-retirement as a club executive; Terry Simpson would coach the squad for the next 2+ years, until an early season slide in November/December 1988 brought Arbour back.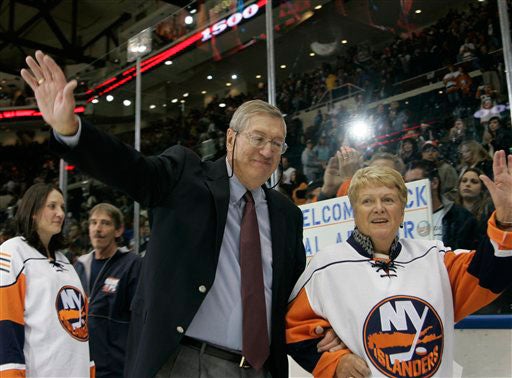 Arbour, with wife Claire, in 2007.
Also on this date: (2004) – Nikolai Khabibulin made 24 saves and Brad Richards scored the winning goal as the Stanley Cup-bound Tampa Bay Lightning took a 2 game to 1 lead over the Isles with a 3-0 win; it was the Isles third straight home-ice loss in the playoffs (twice to Ottawa the previous year), matching the franchise record. That record would grow to 7 before the Isles won game 4 vs Pittsburgh in 2013.
All-time, the Isles have played two regular season and five playoff games on April 12th at the Coliseum; they have compiled a 0-1-1 regular season and 0-5 playoff record on this date at 1255 Hempstead Turnpike in Uniondale.