40 years ago tonight (1975) – The Islanders headed to the Coliseum 40 years ago trying to avoid the embarrassment of a sweep at the hands of the Pittsburgh Penguins.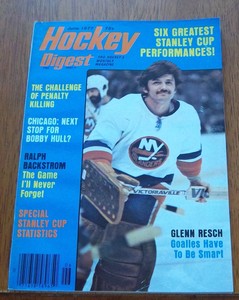 Billy Smith had been in goal for the first three games of the series, all Penguins wins, so Al Arbour decided to put Chico Resch in nets.
The result is the stuff that legends are made of.
Andre St. Laurent scored a power play goal early in the first period to give the Isles the lead for the first time in the series, but Bob Kelly tied it for Pittsburgh with a second period power play marker.
Clark Gillies and JP Parise scored in a 39 second span of the third period to give the Isles a 3-1 lead, and Resch did the rest as the Isles held on for a 3-1 win that cuts Pittsburgh's series lead to the same margin (3-1).
The Isles outhot Pittsburgh 38-28 so Resch finished with 27 saves for his first playoff win.
The Isles' win made sure that Ranger forward Derek Sanderson would be wrong with his forecast that "The Isles will not win another game".

A large "Derek

Be Damned" sign was hung by Isles fans.
Captain Eddie Westfall noted the obvious: "You have to win the first game before you win the fourth".

Six nights later, 18 would have the only goal in the 4th victory.
Tim Moriarty noted in Newsday, "Only one team in the history of the NHL playoffs has survived after losing the first three games of a best-of-7 series" and that was the 1942 Toronto Maple Leafs. They were about to have company.
Also on this date: (1983) – The Isles overwhelmed the Rangers for a 7-2 victory to take a 3 game to 2 lead over the Blueshirts in the series. It was the 5th Isles goal that is most remembered today—an end-to-end rush by Bob Bourne, climaxed with him beating Ed Mio for the goal.

All-time, the Isles have played 0 regular season and two playoff games on April 20th at the Coliseum; they have compiled a 2-0 playoff record on this date at 1255 Hempstead Turnpike in Uniondale.